Good Morning

The Eagle & Child is the place in Auckley to enjoy great food, fantastic drinks and a really warm welcome. So why not meet up with friends, family or business colleagues at the Eagle & Child?
Dining
We offer a menu packed full of mouth-watering dishes and daily specials. All our meals are cooked to order and prepared from fresh seasonal produce to create a variety of tempting dishes for you to enjoy.
Relax
Enjoy a wide range of cask ales, draught beers and lager, wines available by the bottle and glass, soft drinks, tea and coffees served in a relaxing, comfortable atmosphere, The Eagle & Child is the ideal place to unwind and enjoy your favourite tipple with great company.
Monday Quiz Night
Back by popular demand!
Come and join us for some great brain teasers and a lot of fun!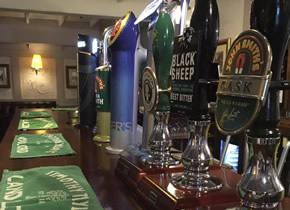 Winners of Trax FM Best Pub in Doncaster for 2017 & 2018 and CAMRA Summer 2018 Pub of the Season.